Lake Region Sailing Club
Eddy Clan Takes First Overall at Annual Dave Thompson Memorial Regatta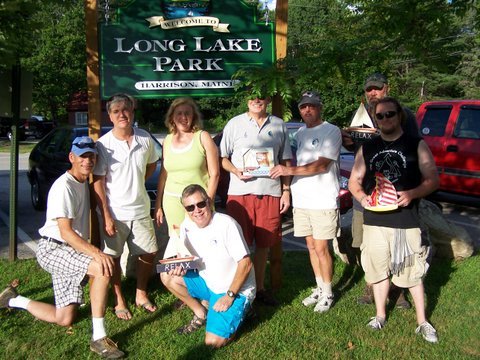 From left to right: Dave Eddy (kneeling), Brad Egan, Elizabeth Eddy, Bob Bean, Hugh Bean,
Rob Knowles, and Ryan Lane. Kneeling in FRONT is Jerry Guyot. (Photo by Paul Follansbee.)
David and Elizabeth Eddy and Brad Egan won the Annual Dave Thompson Memorial Regatta with two firsts and one second place finish on Saturday, August 10, in widely variable conditions.
As for the weather, for once it was "No Worries" as thunderstorms were (for once!) off the table, and breezes were from the north, leftovers of a cold front that had dropped in from Canada way two days prior. Race Committee Paul Follansbee, Barbara Bean and Walter Read had the 1-1/2 mile course set and ready ahead of the 2 pm start time. Three races were scheduled. As usual the handicaps of the various boats were applied to the start times, slower boats first, faster boats later. First boat to the finish line wins. Boats would also be scored in two classes, 'race' and 'cruising'.
As the start sequence began, a quick check on wind direction indicated that starboard tack would be a no-brainer with the wind well right of the weather mark, but that was not to be as things went both left and right on the first leg. Being on the favored tack upwind would yield big dividends... IF you were sailing you were sailing in pressure. Ah, there's the rub!!!
In all three races, playing those shifts did prove critical to success, but even moreso the being where the wind was. Race one had Eddy well ahead and looking to win, but Rampage found better air on the upwind leg to the finish and took the gun to much celebration from wife Barbara Bean on the Committee boat. (You're only supposed to blow the horn once, Barbara ! Just kidding.)
Race 2 was similar, with Jerry and Jim Guyot getting to the weather mark first but getting wamboozed by the flukies and yielding to the yellow Thistle after the rounding. On the run the wind came up bigtime and boats were rolling in the puffs as the breeze freshened went into the mid-teens and swung more fully to the north. It was Eddy in first, Rampage in second with Guyot's 'Sail La Vie' close behind in third.
And then the wind went into a more quiet mode. On the downwind leg everyone was looking for that strong stuff of Race two, but it was not to be found. Finally some pressure came in from the east, and for those in the lead it was a close reach to the leeward mark and a single tack to the finish!
To sum things up, the Eddys played the shifts the best to win, assisted by newcomer (but very experienced sailor) Brad Egan of Yarmouth, MA). Bob Bean, Hugh Bean and Paul Gillis came in second on 'Rampage", having won the first race. And Jerry Guyot secured third.
The Dave Thompson Annual regatta is held in memory of local Sunfish sailor Dave Thompson who shared his joy of sailing with all he met. He passed away in the middle of a race at the Sunfish Worlds, representing the Lake Region Sailing Club and Long Lake well both on and off the water.
Final Results follow:
Overall (Low Score Wins)
1. David+Elizabeth Eddy, Brad Egan/'Windlord' 2 3/4 3/4 = 3.5
2. Bob Bean, Paul Gillis /J22 'Rampage' 3/4 2 2 = 4.75
3. Jerry and Jim Guyot/Flying Scot 3 3 3 = 9
4. Rob Knowles and Ryan Lane Capri 22 'Barbara B' 4 4 DNF = 13
5. Ken Davis/Hunter 23 'Catch Me If You Ken' 5 5 DNS = 16
Race Class
1. Eddy 2 3/4 3/4 = 3.5
2. Bean J22 3/4 2 2 = 4.75
3. Guyot 3 3 3 = 9
Cruising Class
1. Rob Knowles 3/4 3/4 DNF = 3.5
2. Ken Davis 2 2 DNS = 7
The Lake Region Sailing Club invites all sailors to come out to sail with us on Tuesday nights in Harrison Bay off Lakeside Pines. Races start at 5:00 pm. The next weekend regatta is on Saturday, August 30th on Harrison Bay. Visit us on the web at www.lakeregionsailingclub.com, and give us a call or send an email if you'd like to join us. We are always open to taking a new sailor out on one of our boats.